 WE ARE AN ARTISTIC COLLECTIVE EXPRESSING OURSELVES DISCURSIVELY AND INTERDISCIPLINARILY, THROUGH THE MEDIUMS OF CONTEMPORARY DANCE, CINEASTICS AND CREATING VISUAL WORLDS WHOSE TEXTILE FACETS STEM FROM FASHION DESIGN. WE COLLABORATE SITUATIONALLY, PRODUCTIVELY AND TRANSPARENTLY TO CREATE RELEVANT, SUSTAINABLE AND INCLUSIVE OFFERINGS. HUNGRY FOR SOCIOCRITICAL DISCOURSE, WE'LL PICK YOU UP FROM SPACES, NON-PLACES, AND HOME. INTO FANTASTIC, UTOPIAN AND AESTHETIC VISIONS OF THE FUTURE.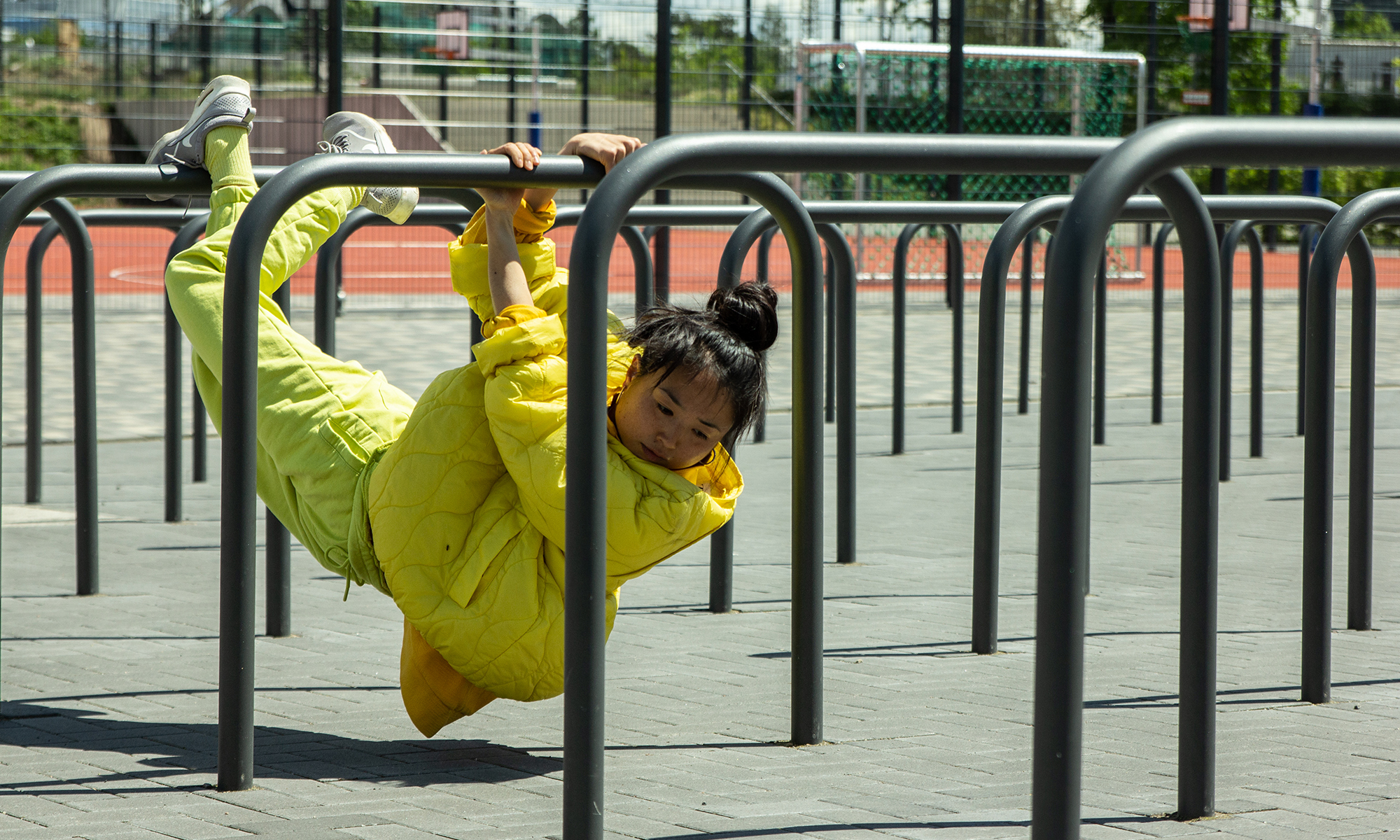 COME OUT AND PLAY. THE CITY IS YOURS.
What do skyscrapers and cloud formations have in common? Quite simply: what you make of them by yourself. And the ASPHALTWELTEN app opens up just that in lots of playful challenges: new urban worlds in a very private and interactive focus.
Fountains become your stage, walkways your playground and parks turn into your individual creative laboratory.
With your smartphone and the ASPHALTWELTEN app, you can discover how much playground there is in your surroundings and how much creativity you have inside of yourself. Experience how your view of your city changes when you spend time in and with it intensively and without distraction. Let yourself be challenged again and again. Every day.
How the app works
The ASPHALTWELTEN app invites you once a day to a small challenge in public space. By using video, photo, text or speech, you are called to complete a task and document it with one of the tools offered within the app. You don't need any previous knowledge or skills for this. A smartphone, a lot of curiosity and a little creativity are all you need.
More about the ASPHALTWELTEN app can be found here.
Crew
Artistic direction & Content / Concept: Cindy Hammer & Susan Schubert
Programming / Technical development: Ralf Michael
Art Work / Design: Stephan Tautz, Dominik Glöß, Stefanie Niechciol
Project management: Marita Matzk, Conrad Schneider
Distribution / Acquisition: Dirk Förster
Legal advice: Spirit Legal
PR: Thomas Natzschka
Social Media: Lea Schweinfurth
• MELANCHOLIC MARATHON (premiere) • November 2023 • LOFFT – Das Theater • Leipzig
• more dates will follow soon