 WE ARE AN ARTISTIC COLLECTIVE EXPRESSING OURSELVES DISCURSIVELY AND INTERDISCIPLINARILY, THROUGH THE MEDIUMS OF CONTEMPORARY DANCE, CINEASTICS AND FASHION DESIGN. WE COLLABORATE SITUATIONALLY, PRODUCTIVELY AND TRANSPARENTLY TO CREATE RELEVANT, SUSTAINABLE AND INCLUSIVE OFFERINGS. HUNGRY FOR SOCIOCRITICAL DISCOURSE, WE'LL PICK YOU UP FROM SPACES, NON-PLACES, AND HOME. INTO FANTASTIC, UTOPIAN AND AESTHETIC VISIONS OF THE FUTURE.
>> ASPHALT-STUDIEN    PERFORMANCE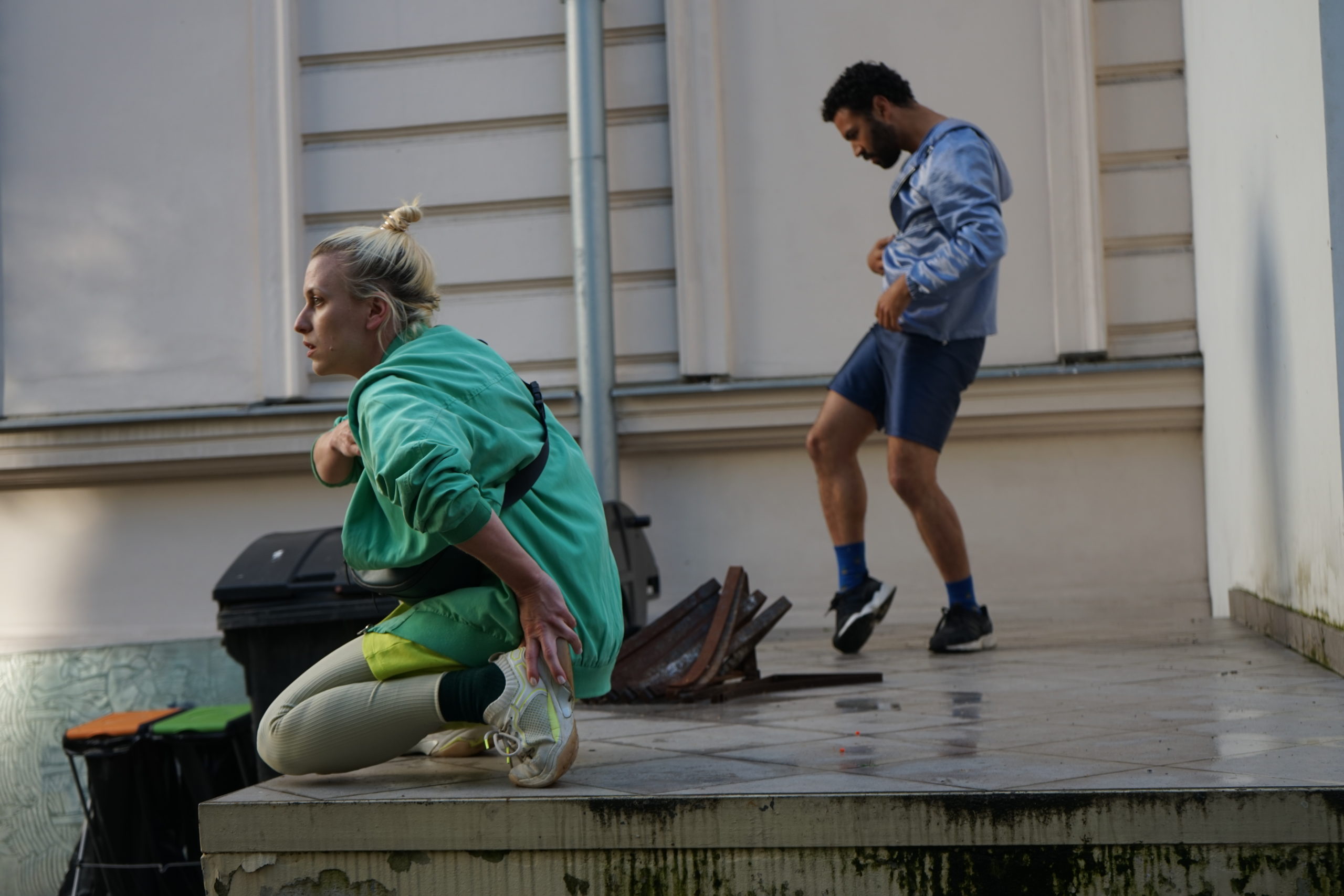 We are very honored to be invited to this year's SOMMERBÜHNE on the campus of the Palucca University of Dance Dresden, where we will present an ASPHALT-Studien performance on June 25 as part of the program of the gala "Sachsen tanzt".
On this evening, students from the Bachelor of Dance program at Palucca University of Dance Dresden as well as dancers from the Semper Opera Ballet, Leipzig Ballet, Sorbian National Ensemble Bautzen, Ballet of the Theater Plauen-Zwickau and the go plastic company will present the wide range and diversity of dance in Saxony. Starting with a performative installation on the campus of the Palucca University of Dance Dresden, this evening offers the opportunity to discover, experience and celebrate Saxony's rich dance landscape.
Tickets for "Sachsen tanzt" are available from June 1 through the Semperoper Dresden advance ticket sales: semperoper.de/spielplan. Admission from 1 hour before the start of the event via entrance Tiergartenstraße.
More information about the event and tickets are available in the university's calendar and on our Telegram Channel.
More about the ASPHALTWELTEN project can be found at: asphaltwelten.goplasticcompany.de
On July 15 and 16 (each show starts at 9 p.m.) we will show our production ASPHALTWELTEN again on the forecourt of the Festspielhaus Hellerau as part of our go plastic anniversary year.
In addition, we have been invited to the tanz.tausch – Dance and Performance Festival in Cologne on August 18 to perform ASPHALTWELTEN there as well. An extremely fitting occasion, as the festival also celebrates its 10th anniversary this year.
More information as well as tickets for the dates in Hellerau are available here.
About ASPHALTWELTEN
ASPHALTWELTEN creates a utopia through dance: a group that renounces stability and security, a life without walls, without insurance, without roots. Being at home in the body, not in buildings. Independent of origin, orientation and opinion. A coming together of biographies on public but "neutral" ground. How do we feel and create our own "artistic shelter"? How far does it reach; does it encompass only me or others as well? How can I carry it, support it,
take it with me and share it?
More about the ASPHALTWELTEN project is available at: asphaltwelten.goplasticcompany.de