 WE ARE AN ARTISTIC COLLECTIVE EXPRESSING OURSELVES DISCURSIVELY AND INTERDISCIPLINARILY, THROUGH THE MEDIUMS OF CONTEMPORARY DANCE, CINEASTICS AND FASHION DESIGN. WE COLLABORATE SITUATIONALLY, PRODUCTIVELY AND TRANSPARENTLY TO CREATE RELEVANT, SUSTAINABLE AND INCLUSIVE OFFERINGS. HUNGRY FOR SOCIOCRITICAL DISCOURSE, WE'LL PICK YOU UP FROM SPACES, NON-PLACES, AND HOME. INTO FANTASTIC, UTOPIAN AND AESTHETIC VISIONS OF THE FUTURE.
On August 18 (show starts at 8:00 p.m.) we will show our production ASPHALTWELTEN at tanz.tausch – Dance and Performance Festival in Cologne. An extremely fitting occasion, as the festival also celebrates its 10th anniversary this year.
More information as well as tickets are available here.
About ASPHALTWELTEN
ASPHALTWELTEN creates a utopia through dance: a group that renounces stability and security, a life without walls, without insurance, without roots. Being at home in the body, not in buildings. Independent of origin, orientation and opinion. A coming together of biographies on public but "neutral" ground. How do we feel and create our own "artistic shelter"? How far does it reach; does it encompass only me or others as well? How can I carry it, support it,
take it with me and share it?
More about the ASPHALTWELTEN project is available at: asphaltwelten.goplasticcompany.de
>> ASPHALT LAB  &  PERFORMANCE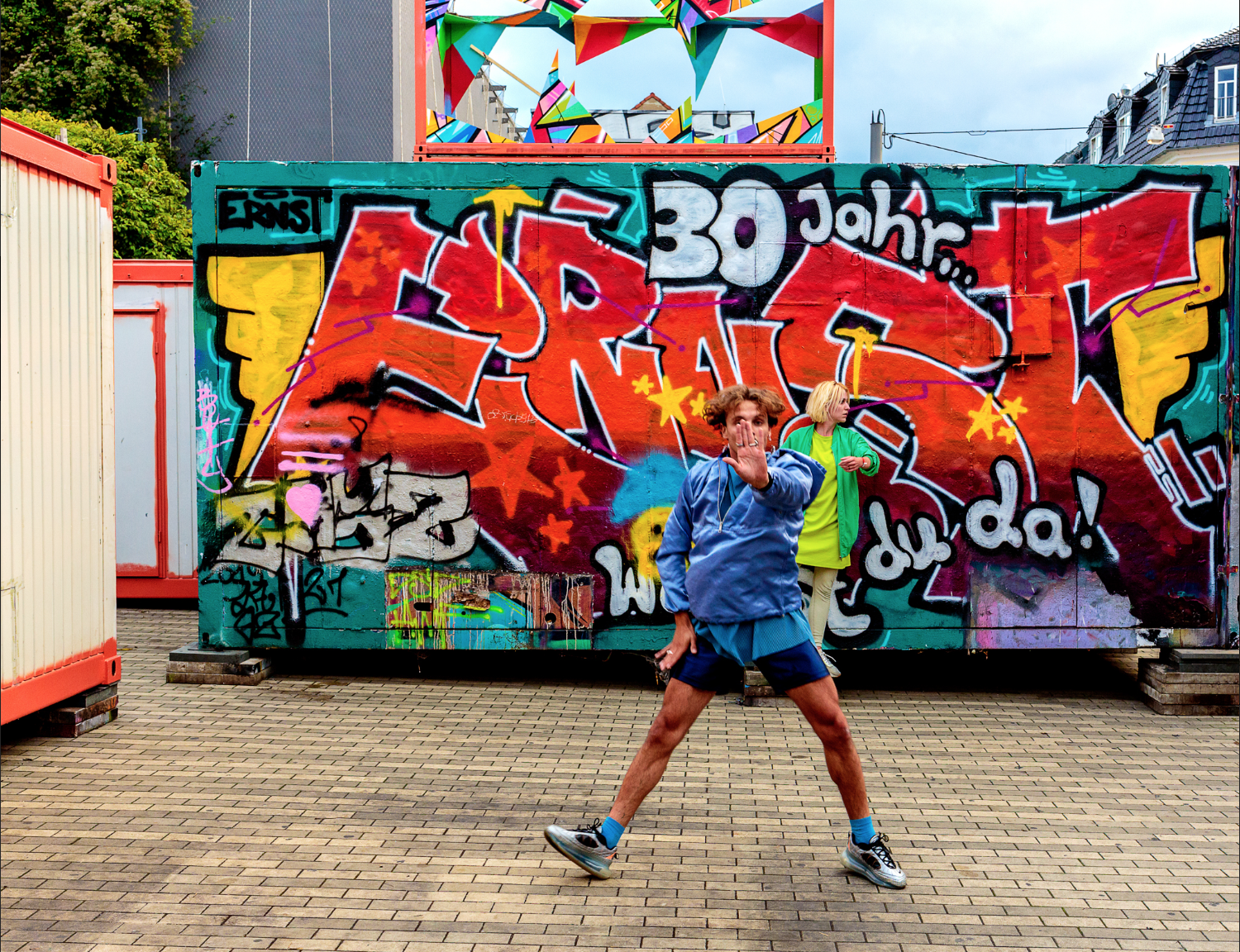 From August 24 – 26, 2022, the ibug international festival for urban art will take place in Flöha, Saxony. We are very happy to announce that go plastic company has also been invited to present an ASPHALT LAB as well as performing an ASPHALT performance during the festival period.
More about the ASPHALTWELTEN project can be found here
About ibug Festival
Since the first industrial brownfield redevelopment in 2006, ibug has become a world-renowned festival of urban art. Every year on the last weekend in August, a brownfield site in Saxony is opened as a temporary exhibition. The focus of the international artists is on experimenting with genres, materials and techniques as well as on the past of the wasteland and its architecture. The ibug team has received many awards for its commitment, including the "PlusPunkt Kultur" award from the Federal Association for Cultural Education for Children and Youth in 2010, the "So geht Sächsisch" ideas competition for tourism in Saxony in 2019, and the "Denkzeit Event" competition of the Saxon State Ministry for Science, Culture and Tourism in 2020 for creative ideas and innovative concepts for the implementation of existing or new events under corona conditions.
A production of go plastic company in co-production with TANZPAKT Dresden and in cooperation with HELLERAU – European Center for the Arts. The premier in 2021 was supported by the NATIONAL PERFORMANCE NETWORK – STEPPING OUT, funded by the Federal Government Commissioner for Culture and the Media as part of the initiative NEUSTART KULTUR. Aid Program Dance. Funded by the Cultural Foundation of the Free State of Saxony. This measure is co-financed by tax funds on the basis of the budget passed by the members of the Saxon State Parliament. Funded by the Office for Culture and Monument Protection Dresden. With the kind support of TENZA and TanzNetzDresden e.V.
The revival of ASPHALTWELTEN in 2022 is based on the production from 2021, supported by the Fonds Darstellende Künste with funds from the Federal Government Commissioner for Culture and the Media as part of NEUSTART KULTUR.