 WE ARE AN ARTISTIC COLLECTIVE EXPRESSING OURSELVES DISCURSIVELY AND INTERDISCIPLINARILY, THROUGH THE MEDIUMS OF CONTEMPORARY DANCE, CINEASTICS AND CREATING VISUAL WORLDS WHOSE TEXTILE FACETS STEM FROM FASHION DESIGN. WE COLLABORATE SITUATIONALLY, PRODUCTIVELY AND TRANSPARENTLY TO CREATE RELEVANT, SUSTAINABLE AND INCLUSIVE OFFERINGS. HUNGRY FOR SOCIOCRITICAL DISCOURSE, WE'LL PICK YOU UP FROM SPACES, NON-PLACES, AND HOME. INTO FANTASTIC, UTOPIAN AND AESTHETIC VISIONS OF THE FUTURE.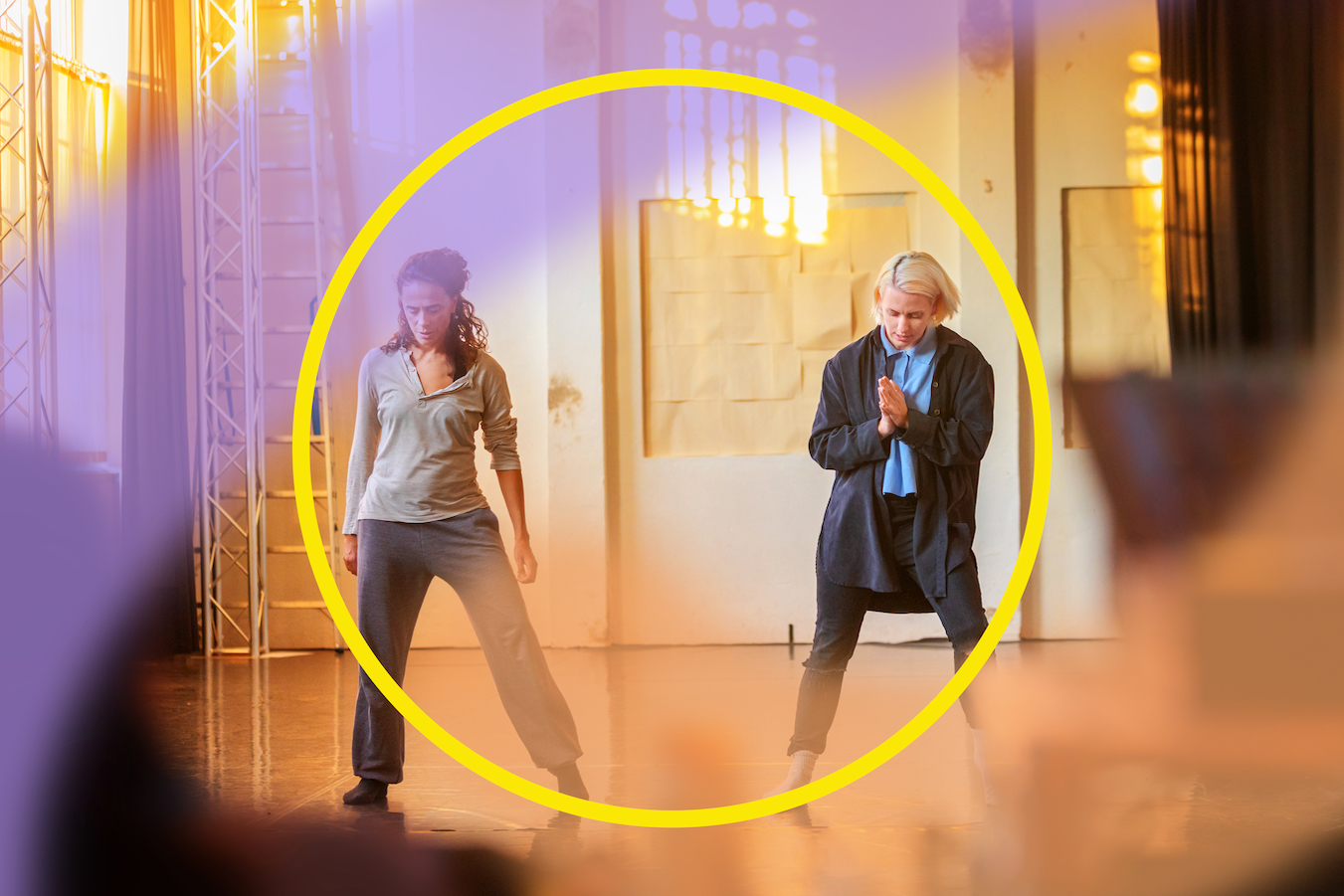 After a longer break, the ninth go plastic STUDIO LAB will take place at TENZA from December 11 until 16, 2023.
Different artists are invited to this format in each edition to provide impetus and inspiration. The aim of these labs is to network and exchange artistic ideas, as well as to engage in joint practice and research.
A format organized by the go plastic company, originally supported by Bureau Ritter / TANZPAKT RECONNECT, funded by the Federal Government Commissioner for Culture and the Media as part of the NEUSTART KULTUR Hilfsprogramm Tanz initiative. As of now with the support of the institutional funding by the state capital Dresden.
From December 11 until 16, 2023 there will be a daily program at TENZA. There will be workshops by the artists Douglas Bateman (NRW) and Dhélé Agbetou (Bielefeld/Berlin), a company training on Monday, Tuesday, Thursday and Friday in cooperation with TanzNetzDresden from 10:00 to 11:30, a yoga training with Luise Knofe on Wednesday from 10:30 to 11:30 and a company class on Saturday from 11:00 to 12:30. Together with the guts company we will furthermore host a "gaga people" class with Shaked Werner on Thursday from 10 to 11:30 a.m.
The ninth edition is also our end-of-year event, where we take time to train, dance, reflect and be together. For this reason, there is also a new program item this time: the so-called "Eat & Greet" – a culinary Q&A session by go plastic. This is a relaxed format with the go plastic leaders Cindy Hammer and Susan Schubert, where you can ask all the questions you've always wanted to ask them. Additionally there will also be food, snacks, hot and cold drinks.
Information & registration
Participation in the go plastic STUDIO LAB is free of charge or on a donation basis. However, registration via mail (to info@goplasticcompagnie.de) is mandatory and binding.
Participation in the Compagnie / TNDD professional training costs 5 Euro per unit for TNDD members; for non-TNDD members it is 8 Euro per unit.
More information about the event and requirements will be sent to you via mail after registration.
Live information about our events and activities can be followed at any time via our Telegram Channel.
The participating artists of go plastic STUDIO LAB #9 are:
Douglas Bateman
Douglas Bateman  is a dance artist and artistic director from England and lives in Cologne. As a performer, he has danced with various dance companies in Europe such as London City Ballet and Scapino Ballet Rotterdam as well as with numerous independent artists such as Tony Rizzi and go plastic. In 2009, together with conflict specialist Dana Caspersen, he founded the MDKollektiv, known for its participatory works, and was selected for the first EU "Perform Europe" program in 2022 with "The Polarity Party".
Since February 2023, he has been organizing participatory workshops in which he uses a set of cards developed together with Dana Caspersen and the MDkolllektiv, inviting users to reflect on their own approaches to decision-making and to "think choreographically" in the process. Topics included non-violent actions, new approaches to audience interaction and racism in dance education.
Impulse at go plastic STUDIO LAB #9:
"Decision Making "
Monday, December 11
Tuesday, December 12
each from 12 to 3:30 p.m.
As dance artists, we think and act choreographically. We practice arranging and organizing our ideas in all kinds of spaces. This state of choreographic decision making is always at play in the design of our social, built and natural environments.
We've translated these ideas into a series of cards that invite you to explore the impact of choices and the possibilities of change while sharing your own choreographic or physical creative practice.
Are you curious to explore how the choices you make affect your work? Are you an artist with a particular practice that you would like to reflect on? Do you feel the need for a change of perspective?
The workshop is based on intimate, guided conversations as participants use the cards to explore issues that are important to them.
All are welcome. The format will be presented in English, with conversations conducted in the language of your choice.
Dhélé Agbetou
Dhélé Tchekpo Agbetou studied stage dance at the DansArt Academy in Bielefeld and jazz dance at the Centre International De Danse Rick Odums in Paris. In summer 2016, he completed the international program of the Israeli Kibbutz Contemporary Dance Company. He has worked as a dancer in Paris for the Rick Odums Company, the junior ensemble of the Armstrong Jazz Ballet and the hip hop company Hype N'Spicy, as well as in Bielefeld for the Tchekpo Dance Company.
Dhélé Agbetou has won national and international battles. He has been invited to perform and teach at festivals and various hip hop events in Germany, Poland, France, Italy, the USA and Japan. In 2015, he founded the Wake Up OWL Young Company for hip hop and contemporary dance. To promote the development of the dance scene in East Westphalia, Dhélé Agbetou also founded the international and renowned OWL Urban Stylez.
Impulses at go plastic STUDIO LAB #9:
»House Dance, Tutting & Shapes«
Thursday, December 14
Friday, December 15
each from 12 to 3 p.m.
This workshop focuses on the exploration of two exciting dance styles: the continuous body flow of House Dance and the precise geometric shapes of Tutting & Shapes. These two styles offer a fascinating contrast and provide a comprehensive experience in the field of dance.
The idea of the workshop is the contrasting work of the two different styles. Using the means of improvisation, the workshop participants will research the differences, parallels and bridges between these styles. The workshop is aimed at professional and advanced dancers.
"Open Level Workshop"
Saturday, December 16
from 1 to 3 p.m.
This workshop focuses on the worlds of house dance and tutting. This includes an introduction to jacking (basic step Jack in the Box), learning footwork, basic steps and their variations, working on arm angles and levels, isolation techniques and an introduction to jam culture.
Compagnie-Training
Monday, December 11,
Tuesday, December 12,
Thursday, December 14,
Friday, December 15;
always from 10 to 11:30
and Saturday from 11 to 12:30
Cindy Hammer
Cindy Hammer's training consists of three parts: a full-body, intensive warm up, various technical sets for practicing movement sequences and a part in which improvisation and movement concepts are worked on.
Susan Schubert
Susan Schubert's company training is also focused on preparing the body and mind for the day. Additionally, Susan works somatically with improvisation and space-time body awareness.
The offers are aimed at professional and advanced dancers.
Luise Knofe
After her studies at the Palucca University of Dance Dresden Luise Knofe started as a freelance professional dancer and teacher. She further specialized in Urban Dance & Experimental Styles in the "1 year international education program" at HipDrop in Malmö/Sweden and lived and trained in Los Angeles to start her career in the entertainment industry. Since then Luise has worked as a dancer, instructor and choreographer for various TV productions, music videos, live stage performances, commercials and theater productions that have taken her from Germany to Los Angeles, Copenhagen, Shanghai, Brussels, Amsterdam and London. She works as a creative director & choreographer, bringing breathtaking visions to life.
Impulse at go plastic STUDIO LAB:
»Dynamic vinyasa yoga«
Wednesday, December 13 from 10:30 – 11:30 a.m.
In this yoga class we practice dynamic Vinyasa Yoga, where you move smoothly from one position to the next, synchronized with your breath. This flowing movement helps to release energy and keep your body supple.
»gaga people« with Shaked Werner

Shaked Werner was born in Israel in 1996. At the age of 9, she began performing various dance styles at the Varda Shoval dance school. After her army service, she continued her dance training at the Mateh Asher School of Performing Art in Kibbutz Ga'aton. In 2017, Shaked joined the Batsheva Ensemble as an apprentice and performed as a dancer in the ensemble from 2018 to 2021. In recent years, she has worked as a freelance dancer and rehearsal director.
Impulse at go plastic STUDIO LAB:
»gaga people«
with Shaked Werner (hosted in cooperation with the guts company)
Thursday, December 14 from 10 – 11:30 a.m.
Gaga/people classes provide a framework in which participants can work with their bodies and their physical sensations, improve their flexibility and endurance, train their agility and explosive strength, and experience the joy of movement in a welcoming accepting atmosphere.
The Gaga/people classes are open to people aged 16 and over, regardless of their background in dance or movement. No previous dance experience is required. Classes last approximately one hour. Participants should wear comfortable clothing and be prepared to dance barefoot or in socks. It is advisable to bring a bottle of water and a towel for use after class.
Eat & Greet
– the culinary go plastic Q&A round, where everyone asks and answers questions –
Wednesday, December 13, from 12:00 – 14:30
We're simply treating ourselves and you to this. Because we're inviting you to join us for lunch and brunch at the end of the year. And we're also offering you the chance to ask and tell us everything you've always wanted to say. Whether it's about dance, artistic work in a collective, training, practice or how we and you actually switch off, recharge or recharge your batteries. Ask us and tell us about yourselves. And enjoy the taste. Just Eat & Greet.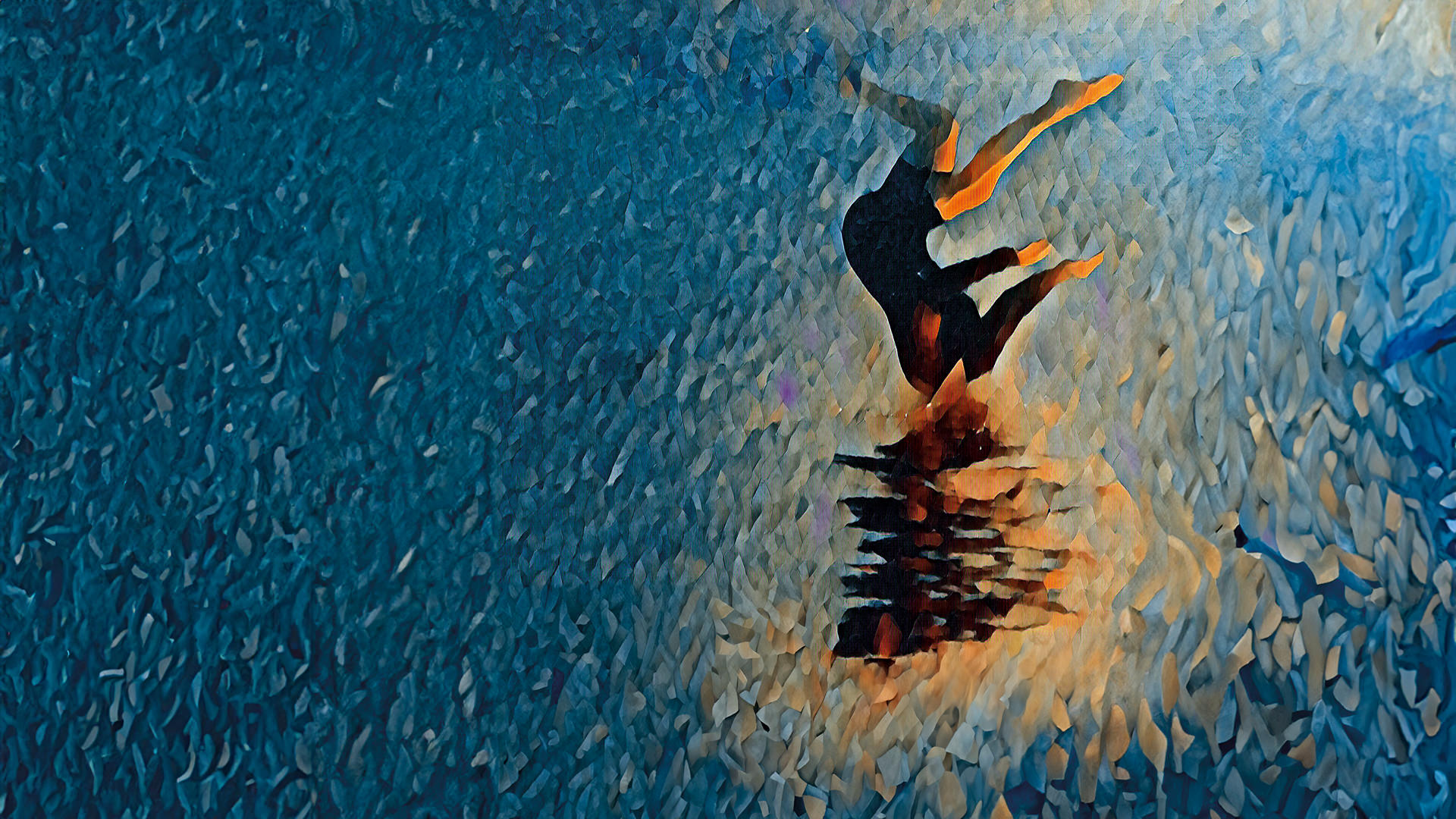 >> M ELANCHOLIC  MARATHON
With a walk-through and interactive solo dance performance go plastic invites to melancholy collectively.
Based on emotional practice and emotional culture, go plastic explores, creates and sets artistic positions on the state of mind of melancholy. Under the motif of "being in-between", the collective is interested in a concept of melancholy that does not want everything or nothing, but makes facets and shifts visible and describable. And which, not least, brings into view the remarkable relay race of this elusive but very poignant emotion in the prism of various disciplines such as philosophy, art, aesthetics, sociology, pop culture, psychology, medicine and theology.
The movement research, choreography and finally the performance are co-authored and realized by Cindy Hammer (artistic co-director go plastic) and Momo Fabienne Tanner (freelance dancer). The accompanying team, consisting of Susan Schubert (dramaturgy / mediation), Stephan Tautz (artwork, mediation), Benjamin Schindler (video / artistic documentation), ZWEATLANA (music / composition / performance), Christian Rätsch (set design / stage) and Benjamin Henrichs as well as Martin Mulik (light design), also takes up and uncovers, examines, shares and comments on social phenomena as a whole.
As part of the project, conversations were held with selected melancholy experts, thoughts and motifs were formulated, and contributions were developed that share the respective perspectives and positions on the topic. Integrated audio description and tactile guidance are also components of the evening.
The result is called MELANCHOLIC MARATHON and it is a bittersweet and sadly joyful multimedia and participatory performance, tending to be slow, padded, resounding in minor key, characterized by dark hues and pensive discourses.
Cast & Crew
Choreography & performance: Cindy Hammer, Momo Fujita Tanner
Observing eye & audio description: Cindy Hammer, Momo Fujita Tanner
Artistic direction & dramaturgy: Susan Schubert
Music & performance: ZWEATLANA
Set design & equipment: Christian Rätsch
Video design & artistic documentation: Benjamin Schindler
Light design: Martin Mulik, Benjamin Henrichs
Production management: Michaela Jarosch
Technical direction: Benjamin Henrichs
Artwork: Stephan Tautz
PR: Thomas Natzschka
Social media: Lea Schweinfurth
Melancholy anecdotes by: João Pedro De Paula, Gabby – Melancholy Brand, xoox, Michaela Jarosch, Cindy Hammer, Benjamin Schindler, PM Hoffmann, Zweatlana, Momo Fujita Tanner, Christian Rätsch, Susan Schubert and other
Photo: Benjamin Schindler & Benjamin Henrichs
Information
Dates: January 26 (10 a.m.), 27 (8 p.m.) & 28, 2024 (6 p.m.)
Important: the date on January 26, 2024 is a performance for school classes, which must be booked directly here.
Venue: HELLERAU – European Centre for the Arts, Karl-Liebknecht-Straße 56, 01109 Dresden
Language: German & English
Duration: approx. 90 minutes
Ages 12 and up
The performances are designed to be wheelchair accessible. In addition, you can take part in a tactile tour and live audio description on January 27 before the performance begins at 7 p.m.
Anyone interested can register for this by email at fuchs@hellerau.org or by telephone on 0351 264 62 37
Tickets:
For January 26: 5 euros (adults) / 3 euros (per student from school classes)
/// Click here for the ticket store ///
For January 27 & 28: 17 euros (regular) / 8 euros (reduced)
/// Click here for the ticket store ///
More information about the upcoming dates can be found here and regularly in our Telegram channel.
MELANCHOLIC MARATHON, a production of go plastic company in co-production with LOFFT – DAS THEATER, Leipzig, HELLERAU – European Centre for the Arts Dresden and EinTanzHaus, Mannheim. Supported by the NATIONAL PERFORMANCE NETWORK co-production support dance, funded by the Federal Government Commissioner for Culture and the Media. Supported by the Cultural Foundation of the Free State of Saxony. This measure is co-financed by tax funds on the basis of the budget passed by the Saxon State Parliament. Funded by the Office for Culture and Monument Protection as part of the institutional funding of the state capital Dresden and the Cultural Office of the city of Leipzig. With the kind support of TENZA, audioscript, TELUX Hafenstube Weißwasser and TanzNetzDresden.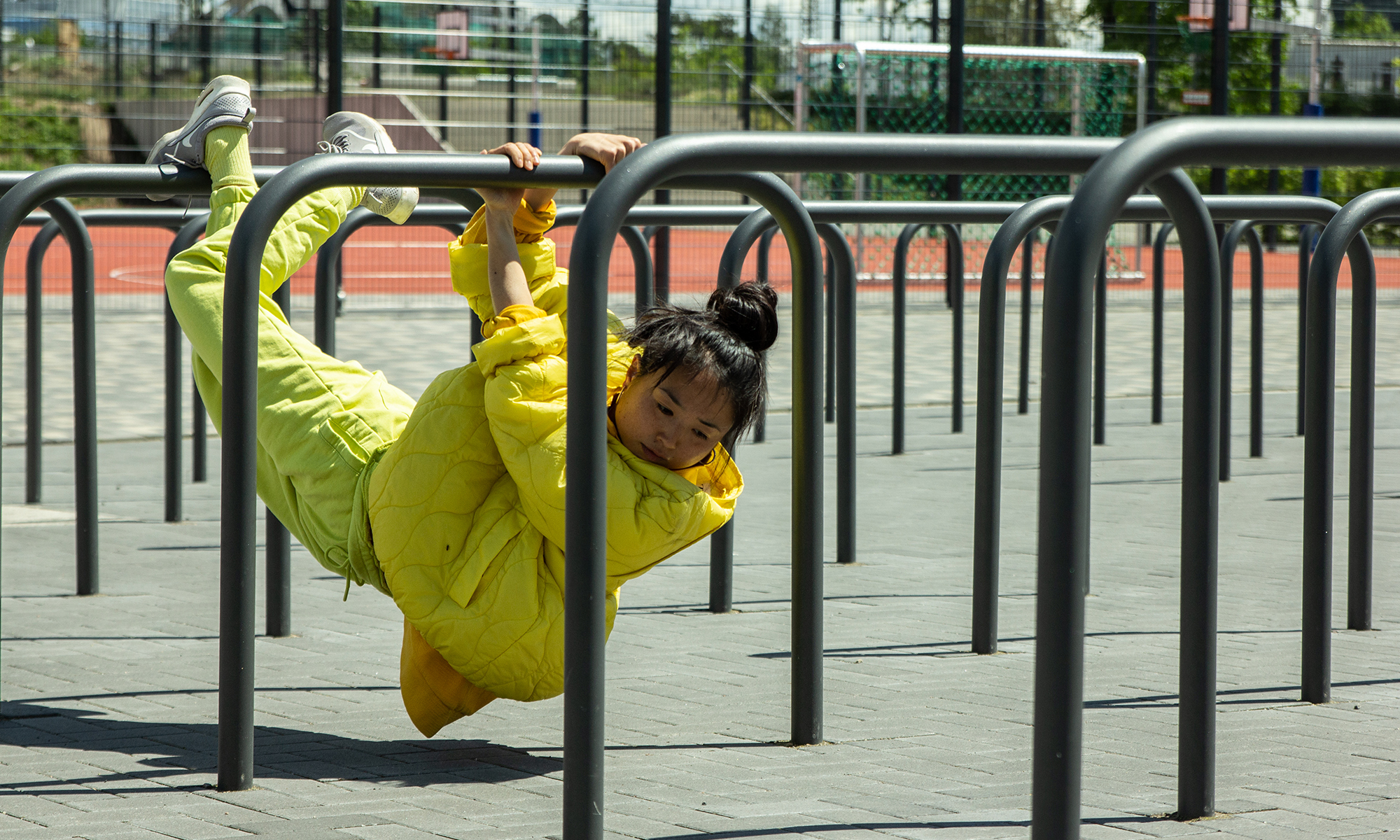 COME OUT AND PLAY. THE CITY IS YOURS.
What do skyscrapers and cloud formations have in common? Quite simply: what you make of them by yourself. And the ASPHALTWELTEN app opens up just that in lots of playful challenges: new urban worlds in a very private and interactive focus.
Fountains become your stage, walkways your playground and parks turn into your individual creative laboratory.
With your smartphone and the ASPHALTWELTEN app, you can discover how much playground there is in your surroundings and how much creativity you have inside of yourself. Experience how your view of your city changes when you spend time in and with it intensively and without distraction. Let yourself be challenged again and again. Every day.
How the app works
The ASPHALTWELTEN app invites you once a day to a small challenge in public space. By using video, photo, text or speech, you are called to complete a task and document it with one of the tools offered within the app. You don't need any previous knowledge or skills for this. A smartphone, a lot of curiosity and a little creativity are all you need.
More about the ASPHALTWELTEN app can be found here.
Crew
Artistic direction & Content / Concept: Cindy Hammer & Susan Schubert
Programming / Technical development: Ralf Michael
Art Work / Design: Stephan Tautz, Dominik Glöß, Stefanie Niechciol
Project management: Marita Matzk, Conrad Schneider
Distribution / Acquisition: Dirk Förster
Legal advice: Spirit Legal
PR: Thomas Natzschka
Social Media: Lea Schweinfurth
>>>> #savethedate 2023/24