 WE ARE AN ARTISTIC COLLECTIVE EXPRESSING OURSELVES DISCURSIVELY AND INTERDISCIPLINARILY, THROUGH THE MEDIUMS OF CONTEMPORARY DANCE, CINEASTICS AND FASHION DESIGN. WE COLLABORATE SITUATIONALLY, PRODUCTIVELY AND TRANSPARENTLY TO CREATE RELEVANT, SUSTAINABLE AND INCLUSIVE OFFERINGS. HUNGRY FOR SOCIOCRITICAL DISCOURSE, WE'LL PICK YOU UP FROM SPACES, NON-PLACES, AND HOME. INTO FANTASTIC, UTOPIAN AND AESTHETIC VISIONS OF THE FUTURE.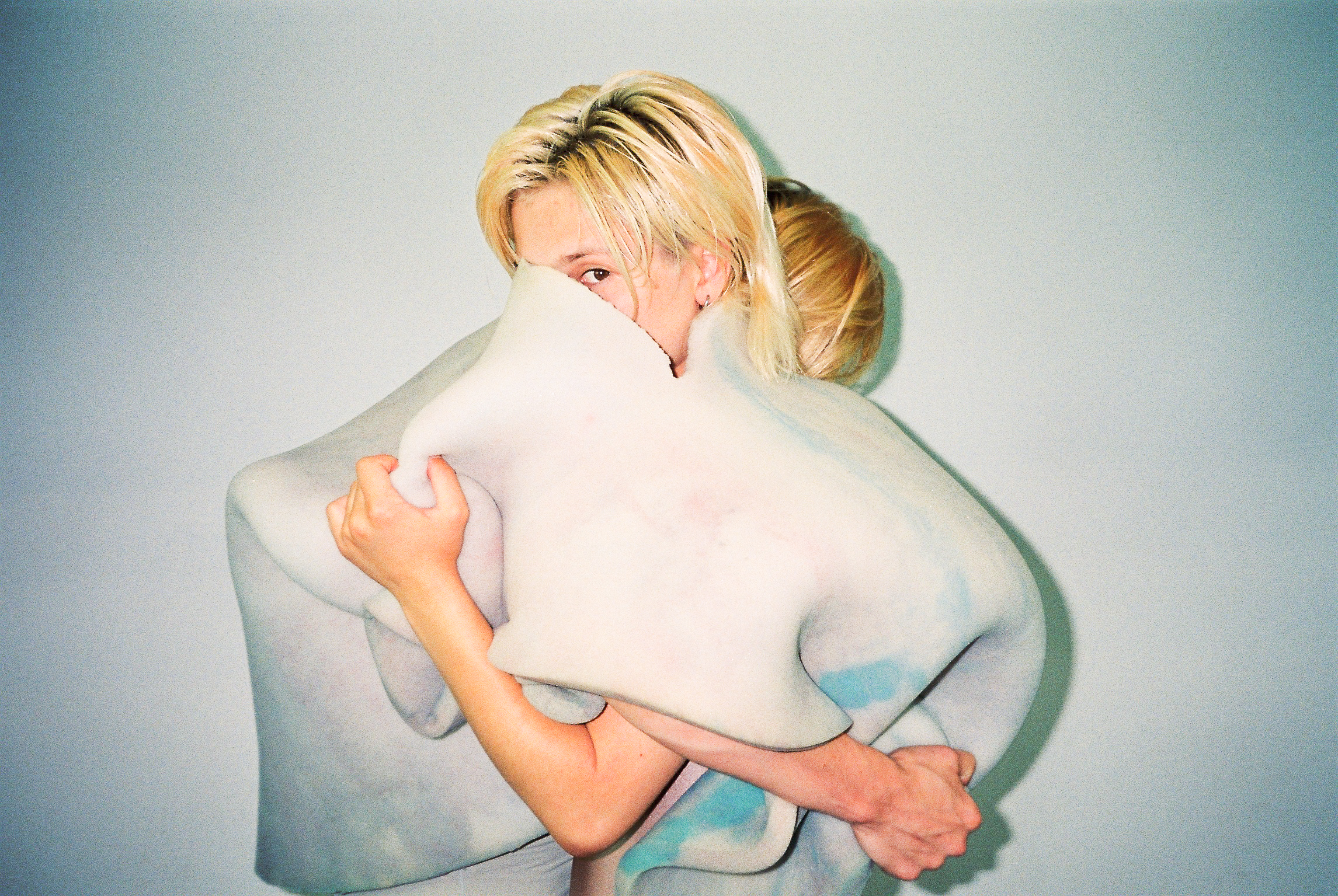 mind the rage – a performative tour about RAGE by go plastic
rage, the – noun, feminine
violent, unrestrained outburst of emotion caused by anger or the like, showing itself in countenance, word and deed
Based on their comprehensive, thematic research, the collective sets an artistic framework, which is filled with biographical anecdotes, associative approaches and personal reflections.
Tipping points, loops, outlets, expectations, transformation and a constant search – for translations into material, into systems, into strategies – characterize go plastic's artistic treatment of this complex and present theme. Interior spaces are illuminated, evidence gets collected, and the many spectra of this condition are differentiated.
The go plastic company undertakes the attempt to identify the positive power of rage and to translate it into usability and to provide the space for different approaches. With ANGER experts from different areas of life and work, questions were discussed, voices heard, experiments started, perspectives opened up and new levels developed.
From the outside to the inside, between negative portrayal and positive selling, between being carried away and painful self-awareness, between overflowing energy and unrestrained silence; go plastic invites discussion and participation and embarks with the audience on a round trip through the realms of anger.
---
Dates
---
More mind the rage is available at:
goplasticcompany.com/mind-the-rage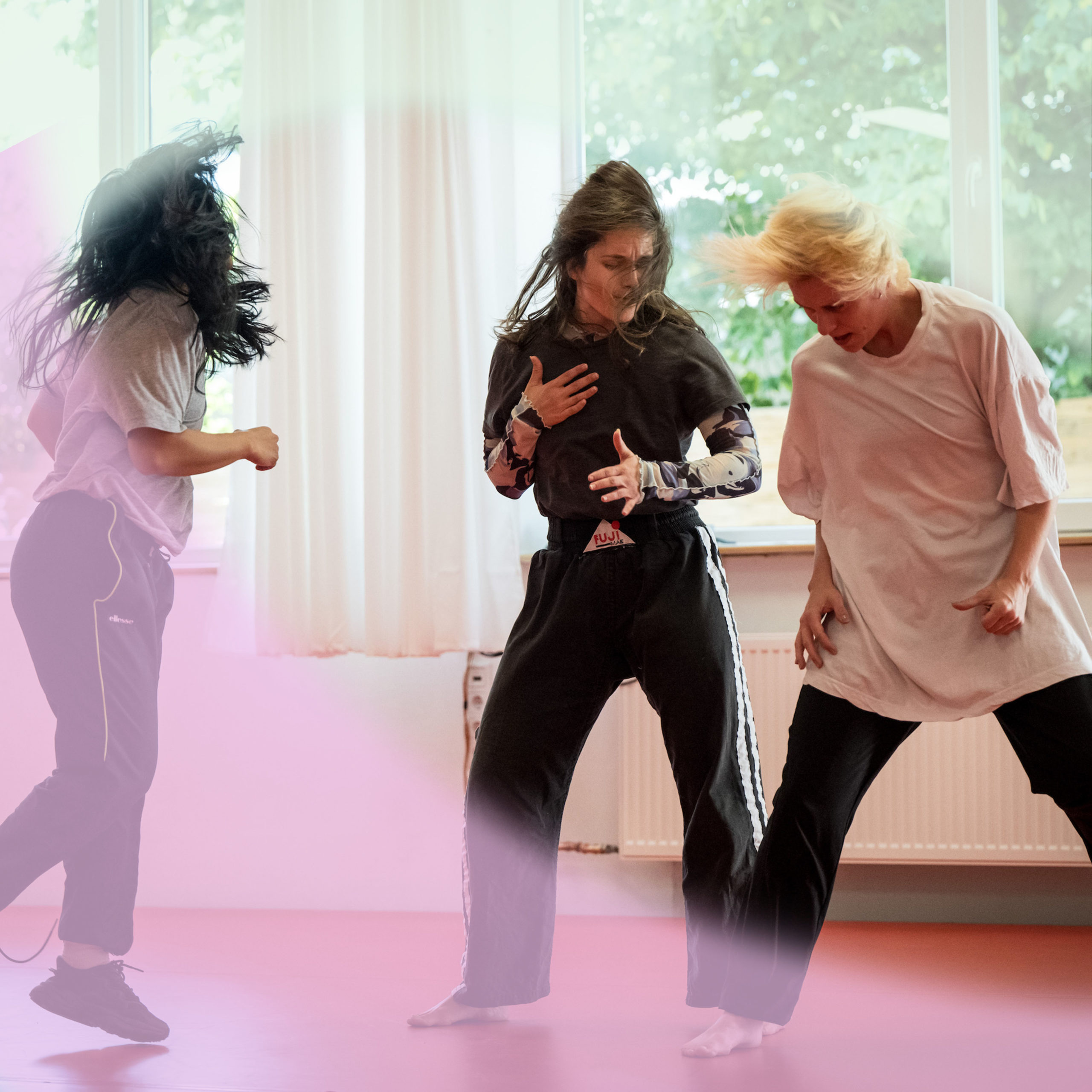 go plastic STUDIO LAB #6, October 11 – 15, 2022, TENZA
For every go plastic STUDIO LAB different artists are invited to set impulses and inspire. The aim is to network and exchange artistic ideas within the framework of a laboratory and to encourage collective practice and research.
A format organized by go plastic company, supported by DIEHL+RITTER/TANZPAKT RECONNECT, sponsored by the Federal Government Commissioner for Culture and the Media within the framework of the NEUSTART KULTUR Hilfsprogramm Tanz initiative.
The sixth edition stands under the signs of our festive second half of the year. Celebrating the 10th anniversary of the company and in preparation for the "time & s_pace" festival, the collective invites with this studio lab artists who open new spaces, explore temporality and invite for collective practice.
From October 11-15, a daily program will take place at TENZA. There will be workshops by the artists Mandy Unger (Leipzig), Kat Válastur (Berlin) and Alex Effuse (Greece) as well as a company training on Tuesday, Thursday and Friday in cooperation with TanzNetzDresden (each from 10:00 – 11:30) and a yoga training with Luise Knofe on Saturday from 11:00 – 12:00. More information will follow soon.
Header picture: Leszek Januszewski / TANZ_TAUSCH_NETZWERK / graphical rework: Lea Schweinfurth
---
---
Information & registration
Participation in the go plastic STUDIO LAB is free of charge or on a donation basis. However, registration via mail (to info@goplasticcompagnie.de) is mandatory and binding.
STUDIO LABYoga training with Luise Knofe costs 10 Euro and can be payed with PayPal or cash on site.
Participation in the Compagnie / TNDD professional training costs 5 Euro per unit for TNDD members; for non-TNDD members it is 8 Euro per unit. Payment can only be made by cash on site.
More information about the event and requirements will be sent to you via mail after registration.
Live information about our events and activities can be followed at any time via our Telegram Channel.
The participating artists of go plastic STUDIO LAB #6 are:
Mandy Unger
Mandy Unger a.k.a. M.over works as a choreographer, dancer and DJ. In 2019 she founded the M.over Company in Leipzig and received numerous scholarships and grants for her productions in the recent years. In 2022, she is a resident artist at the Thuringian Theater Association. She received her dance training and expertise in the independent dance scene (DE, PRT, CH, USA) in the styles of contemporary dance as well as in hip hop and house culture (CH, USA, DE). She danced among others at the Tanztheater Erfurt (Ester Ambrosino), at Bounce urban! (Andrea von Gundten) and choreographed productions for stellwerk Theater Weimar, Theater Bernburg, Grüner Salon Berlin (Volksbühne), Lofft Theater Werkstatt e.V., among others.
Impulse at go plastic STUDIO LAB:
»PLAY Experimental«
Tuesday, October 12 from 12 a.m. – 2 p.m.
In the workshop »PLAY Experimental« the dancers are encouraged to creatively use new and own movement patterns by playing with musical structures, groove and improvisation. Initially, small dynamic routines are developed, inspired by the styles of House, Hip Hop, Contemporary and Floorwork. These will be modified in the course of the workshop through inputs and aleatorics, so that playing with habits may become a challenge. Finally, to focus on the genre "Experimental", the examination of musicality and individual tasks will be an essential conclusion of the workshop.
Alex Effuse
Alexandra Filippidou is a movement artist, dance teacher and performer from Greece. Her dance is influenced by ballet, jazz, Latin American dances and various couple dances. For many years she trained various street dance styles, with popping as her primary focus and influence. For the last four years she has been active in the street dance scene, winning and judging various competitions. She taught all over Europe, sharing her philosophy in life and dance through the style Waving. She danced at the cultural center "Stravos Niarchos" in Athens, at Tanzhaus NRW and worked with Canadian producer Jeremy Shaw on his project "Phase Shifting Index". Her most recent work was at Fonty's University of the Arts in Tilburg, Holland, where she also taught Waving.
Impulse at go plastic STUDIO LAB:
»Waving«
Saturday, October 15 from 1 – 3:30 p.m.
This workshop will focus on exploring, playing and creating concepts in the style of waving. We will work in depth with the floor and learn how simple methods and the use of simple tools can unleash creativity. We will transform our practice into a playground and create movement on the floor with ease while working with our natural abilities. Waving will be our medium to discover new possibilities through guided exercises.
Cindy Hammer
Impulse at go plastic STUDIO LAB:
»Compagnie Training go plastic«
Tuesday, October 11
Thursday, October 13
Friday, October 14
each from 10 – 11:30 a.m.
Cindy Hammer's training consists of three parts: a full-body, intensive warm up, another part in which improvisation and movement concepts are worked on and finally the learning of a choreographic sequence. The offer is aimed at professional and advanced dancers.
Kat Válastur 
Kat Válastur (born in Athens, Greece ) is a Berlin based choreographer and performer. Her choreographic works are defined by the creation of transformative experiences on stage. In her work the bodies are manifesting the ways that power structures are experienced and are embodied. Through the use of the mythical as a tool, she creates a condition that is charged with historical, fictional, social and personal experiences.
Impulse at go plastic STUDIO LAB:
Wednesday, October 12 from 12 a.m. – 3 p.m.
"In the three hours that we are going to spend together we are going to taste different ways in bringing  the focus into an experience of a collective work. How can we dance together and constitute an assemblage of different bodies with the desire to work together? How we negotiate and make decisions together while we dance in a condition where we all lead and we all follow? How can we awaken and activate such a non hierarchical awareness in a group work?"
Louise Knofe 
After her studies at the Palucca University of Dance Dresden Luise Knofe started as a freelance professional dancer and teacher. She further specialized in Urban Dance & Experimental Styles in the "1 year international education program" at HipDrop in Malmö/Sweden and lived and trained in Los Angeles to start her career in the entertainment industry. Since then Luise has worked as a dancer, instructor and choreographer for various TV productions, music videos, live stage performances, commercials and theater productions that have taken her from Germany to Los Angeles, Copenhagen, Shanghai, Brussels, Amsterdam and London. She works as a creative director & choreographer, bringing breathtaking visions to life.
Impulse at go plastic STUDIO LAB:
"Dynamic vinyasa yoga"
Saturday, October 15 from 11 – 12 a.m.
Dynamic vinyasa yoga for every body / Flow through the motions with your breath / Focus on flexibility, strength & mindfulness
>>> T I M E  &  S_PACE   FESTIVAL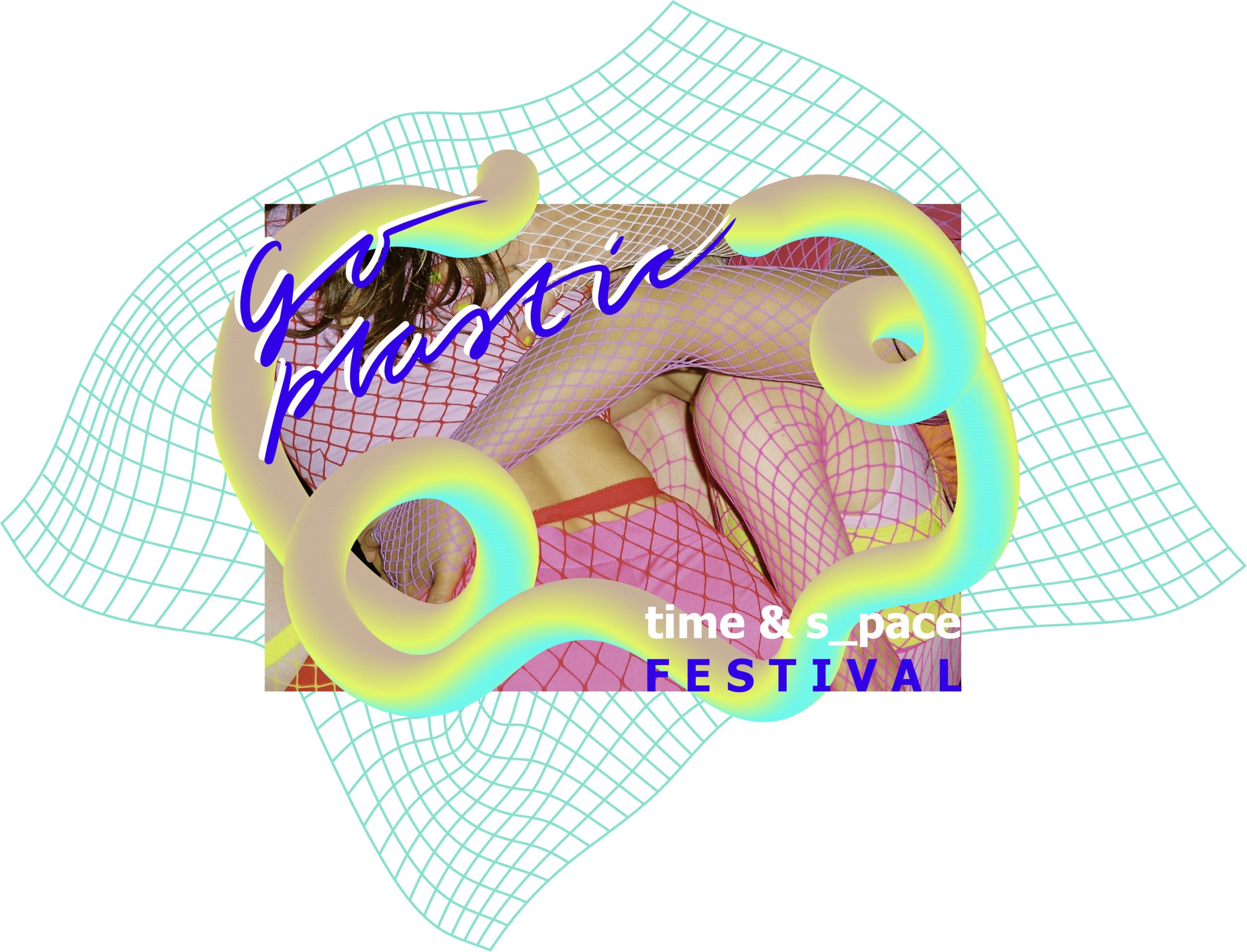 10 years go plastic company
go plastic company celebrates with "time & s_pace" a decade of existence and hosts a festival from 25. November to 3. December 2022 in HELLERAU.  A comprehensive program of the company's works from the last five years, the Dresden premiere of the 2022 go plastic new production "mind the rage" and a gathering of numerous associated artists from various disciplines and genres are planned. Companions of the go plastic company of the last ten years are invited to present their own works. The expected result: five days filled with numerous performances, concerts, exhibitions, installations and stage performances.
"time & s_pace" invites you to enjoy contemporary artistic debate and aims to make visible the great potential and high artistic quality of local and national artists.
Participating: go plastic company, the guts company, TILL/LUBICH, HARTMANNMUELLER, Joy Alpuerto Ritter, Miller De Nobili, Magdalena Weniger KOMA & Ko, Douglas Bateman, Charles Washington, Dolphine Boys, Cocktail Napkin, ZWEATLANA, Alexandra Börner, Lea Schweinfurth, Enrico Sutter, Joseph Hernandez, Caroline, Beach, Rika Yotsumoto, Joao Pedro De Paula, DJ Mandy Unger, Tinted House, David Le Thai, Alphonsine Koh, PLAN MEE / Eva Borrmann, Adam Dreessen and others
For more time & s_pace check out:
https://www.goplasticcompany.de/time-and-s_space-festival
https://www.hellerau.org/de/festival/time-space
---
Date
• time & s_pace – go plastic turns 10 – celebration from November 24 – December 3, 2022 in co-production with HELLERAU – Europäisches Zentrum der Künste
---
time & s_pace is a project of go plastic company in co-production with HELLERAU – European Center for the Arts. Supported by the NATIONAL PERFORMANCE NETWORK – STEPPING OUT, funded by the Federal Government Commissioner for Culture and the Media as part of the initiative NEUSTART KULTUR. Aid Program Dance. Funded by the Cultural Foundation of the Free State of Saxony. This measure is co-financed by tax funds on the basis of the budget passed by the members of the Saxon State Parliament. Funded by the Office for Culture and Monument Protection Dresden. With the kind support of TENZA and TanzNetzDresden.
---
Graphic work: Lea Schweinfurth