 WE ARE AN ARTISTIC COLLECTIVE EXPRESSING OURSELVES DISCURSIVELY AND INTERDISCIPLINARILY, THROUGH THE MEDIUMS OF CONTEMPORARY DANCE, CINEASTICS AND FASHION DESIGN. WE COLLABORATE SITUATIONALLY, PRODUCTIVELY AND TRANSPARENTLY TO CREATE RELEVANT, SUSTAINABLE AND INCLUSIVE OFFERINGS. HUNGRY FOR SOCIOCRITICAL DISCOURSE, WE'LL PICK YOU UP FROM SPACES, NON-PLACES, AND HOME. INTO FANTASTIC, UTOPIAN AND AESTHETIC VISIONS OF THE FUTURE.
> ASPHALT-STUDIEN    PERFORMANCE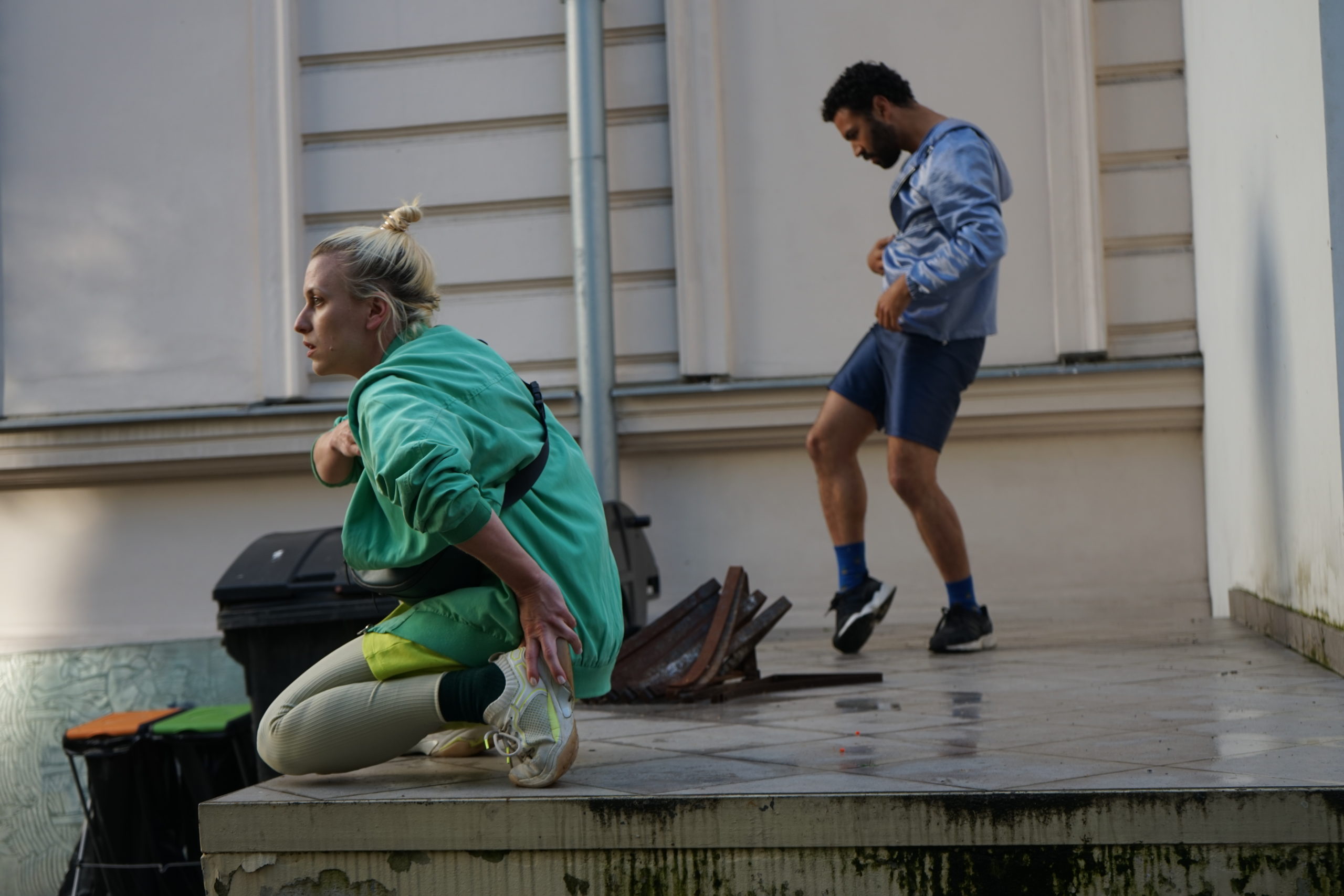 We are very honored to be invited to this year's SOMMERBÜHNE on the campus of the Palucca University of Dance Dresden, where we will present an ASPHALT-Studien performance on June 25 (starting at 6 p.m.) as part of the program of the gala "Sachsen tanzt".
On this evening, students from the Bachelor of Dance program at Palucca University of Dance Dresden as well as dancers from the Semper Opera Ballet, Leipzig Ballet, Sorbian National Ensemble Bautzen, Ballet of the Theater Plauen-Zwickau and the go plastic company will present the wide range and diversity of dance in Saxony. Starting with a performative installation on the campus of the Palucca University of Dance Dresden, this evening offers the opportunity to discover, experience and celebrate Saxony's rich dance landscape.
Tickets for "Sachsen tanzt" are available from June 1 through the Semperoper Dresden advance ticket sales: semperoper.de/spielplan. Admission from 1 hour before the start of the event via entrance Tiergartenstraße.
More information about the event and tickets are available in the university's calendar and on our Telegram Channel.
More about the ASPHALTWELTEN project can be found at: asphaltwelten.goplasticcompany.de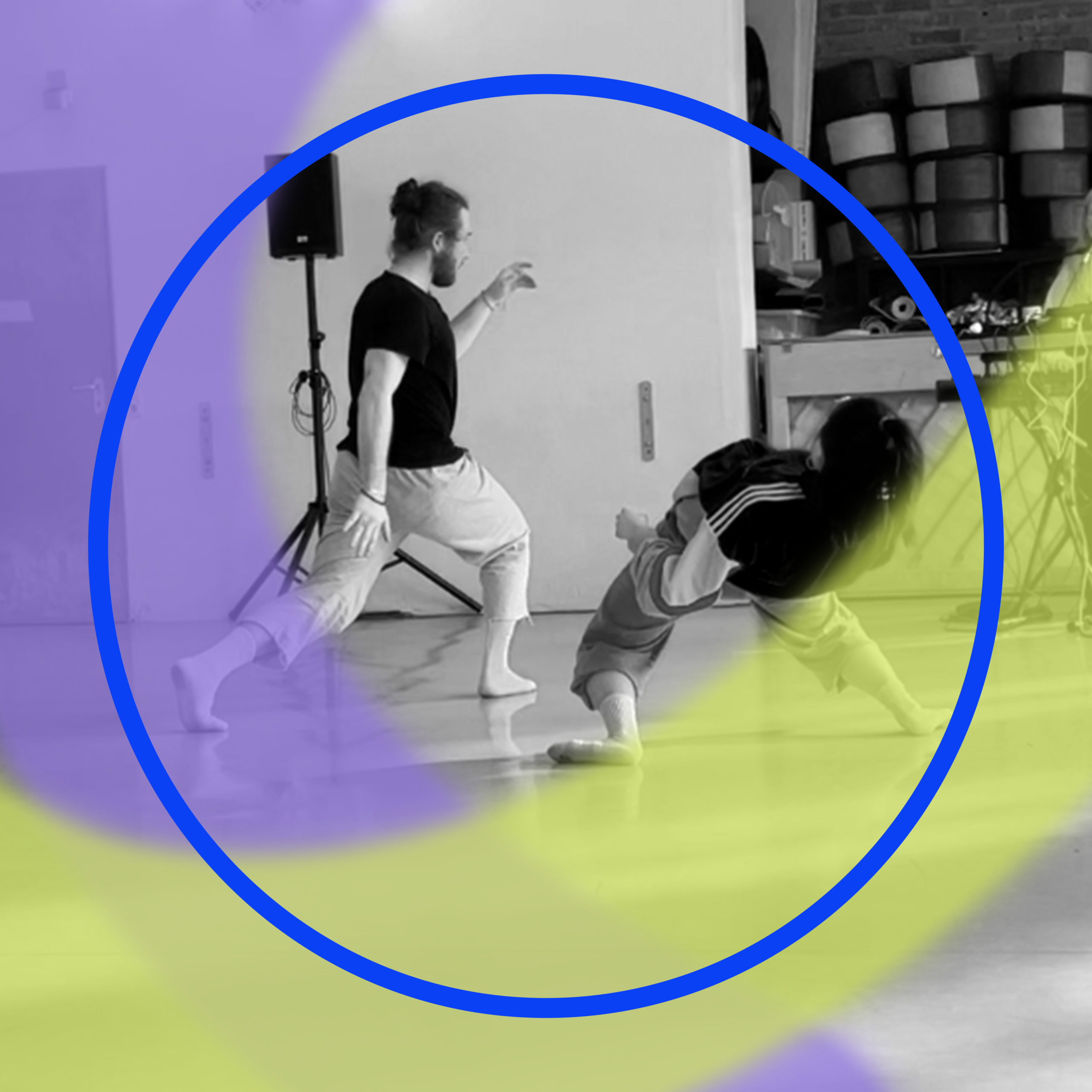 The go plastic STUDIO LAB summer edition will take place from July 4 – 7, 2022 at TENZA.
Once again different artists are invited to set impulses and inspire. The aim is to network and exchange artistic ideas within the framework of a laboratory and to encourage collective practice and research.
The fifth edition is thematically oriented on the go plastic company's ongoing research on emotion culture. The collective is currently working on the theme of RAGE and concerns itself with performative practices in relation to emotional states.
For the laboratory in July three great guests are invited, who will give impulses and inspiration to (non)verbal expression, expressivity and improvisation.
For this purpose, a daily program will take place at TENZA from July 4 – 7. There will be workshops by artists Hanna Adelsberger (Berlin), Gwen Kyrg (Leipzig) and Yeliz Pazar (NRW) as well as a company training on Monday, Tuesday, Thursday in cooperation with TanzNetzDresden, which can be attended on these three days from 10:00 – 11:30.
Participation in the go plastic studio LAB is free of charge or on a donation basis. However, registration via mail (to info@goplasticcompagnie.de) is mandatory and binding.
Participation in the Compagnie / TNDD professional training costs 5 € per unit for TNDD members; for non-TNDD members it is 8 € per unit.
More information about the event and requirements will be sent to you via mail after registration.
Live information about our events and activities can be followed at any time via our Telegram Channel.
The participating artists of the fifth edition of the STUDIO LAB are:
Hanna Adelsberger
Hanna Adelsberger is a dancer and clinical psychologist. Her main focus is on the diversity of arm movements & techniques (e.g. tutting, flamenco). Currently she is part of the project "Urban Feminism", which will celebrate its conclusion at this year's Tanz im August Festival in Berlin. Hanna Adelsberger is also funded by NPN – STEPPING OUT with her project "FEMMEvolution" and received the 2021 Research and Work Grant Dance for her project "Algorythmic". Hanna Adelsberger has been organizing the international Urban Female Festival "Queen 16" since 2019, which deals with the visibility of women in the art world.
Hanna Adelsberger also researched at FU Berlin on the influence of dance and movement on psychological well-being.
Impulse at go plastic STUDIO LAB:
"!Rise Your Arms!"
Monday, July 4 from 12 – 2 p.m. &
Tuesday, July 5 from 12 – 2 p.m.
The main focus on both days will be on exploring the diversity of hand and arm movement & techniques. The goal is to be able to express more individuality and emotion in your own style. The first day will focus on complex, abstract and geometric movements from tutting. The second day will deal with non-verbal communication of gestures of emotions such as anger. Storytelling will be another focus.
Gwen Kyrg
Gwen Kyrg (b. 1985 pronoun: she/her) is a freelance musician and performing artist. The hybrid works as a singer, performer, speaker, music and theater director and composer. Her focus is on jazz, free improvisation and pop, as well as language, movement and installation, which she combines in her own work to create theatrical performances and forms of contemporary musical theater.
In her ongoing free improvisation audio experiment format, Gwen Kyrg has been developing site-specific experimental arrangements for cross-disciplinary ensembles and audiences as lab partners since 2011. She collaborates on various projects across a broad spectrum from music to performing arts.
Gwen Kyrg's own work revolves around the here and now, encounters, participation, listening, and femininity. Current productions 2021-2022: "Natural Woman – a performance at home" (Westflügel Leipzig), "complex and many" (concept album and installative song performance in cooperation with the band Aua Aua), performer at "Das Amt" (Theaterwerkstatt Pilkentafel Flensburg).
Gwen Kyrg graduated in 2011 with a diploma in jazz/pop vocals from the Hochschule für Musik und Tanz Cologne and in 2015-2016 she completed her training in mime corporel dramatique (movement theater) at the Atelier des Mimes Berlin. She is a scholarship holder of the Cultural Foundation of the Free State of Saxony, the Performing Arts Fund, the Music Fund and the Cultural Office of the City of Leipzig. In 2019-2021 she cooperated in the Artist Development Programme with LOFFT – DAS THEATER in Leipzig.
Impulse at go plastic STUDIO LAB:
"collective anger-transformer"
Wednesday, July 6 from 12 – 3 p.m.
Based on her participatory performance "TUBATABU" – a parlor game for 4 people, which is used as a formal template, transferred to the theme and expanded with movement, within the go plastic STUDIO LAB the participants develop the format further into a collective anger transformer with the help of text and movement materials.
Yeliz Pazar
Yeliz Pazar is a dancer and choreographer. She is a co-founder of the dance collective "nutrospektif", which emerged in 2012 and was labeled as Factory Artists by tanzhaus nrw in 2020. "nutrospektif" is making urban dance cultures more visible in the stage context, exploring artistic approaches, and advances dialogue in the dance landscape. Yeliz is also part of the first generation of Waacking dancers in Germany and organized "THE WAACK OFF" at tanzhaus nrw, the first event of the genre, which involved numerous international guests.
Impulse at the go plastic STUDIO LAB:
Waacking workshop
Thursday, July 7 from 12 – 3 p.m.
In the Waacking workshop, the loosening and strengthening of the arm muscles through arm coordination to music, confident and self-assured appearance, and poses play important roles.
Yeliz Pazar teaches not only a very good foundation, but also effective learning methods for working independently. Her focus is on spontaneity and individuality as her classes are always aimed at urban dance styles, "freestyle" (improvisation); accordingly, Yeliz also works on a strong musicality and body control.
>>> ASPHALT LAB  &  PERFORMANCE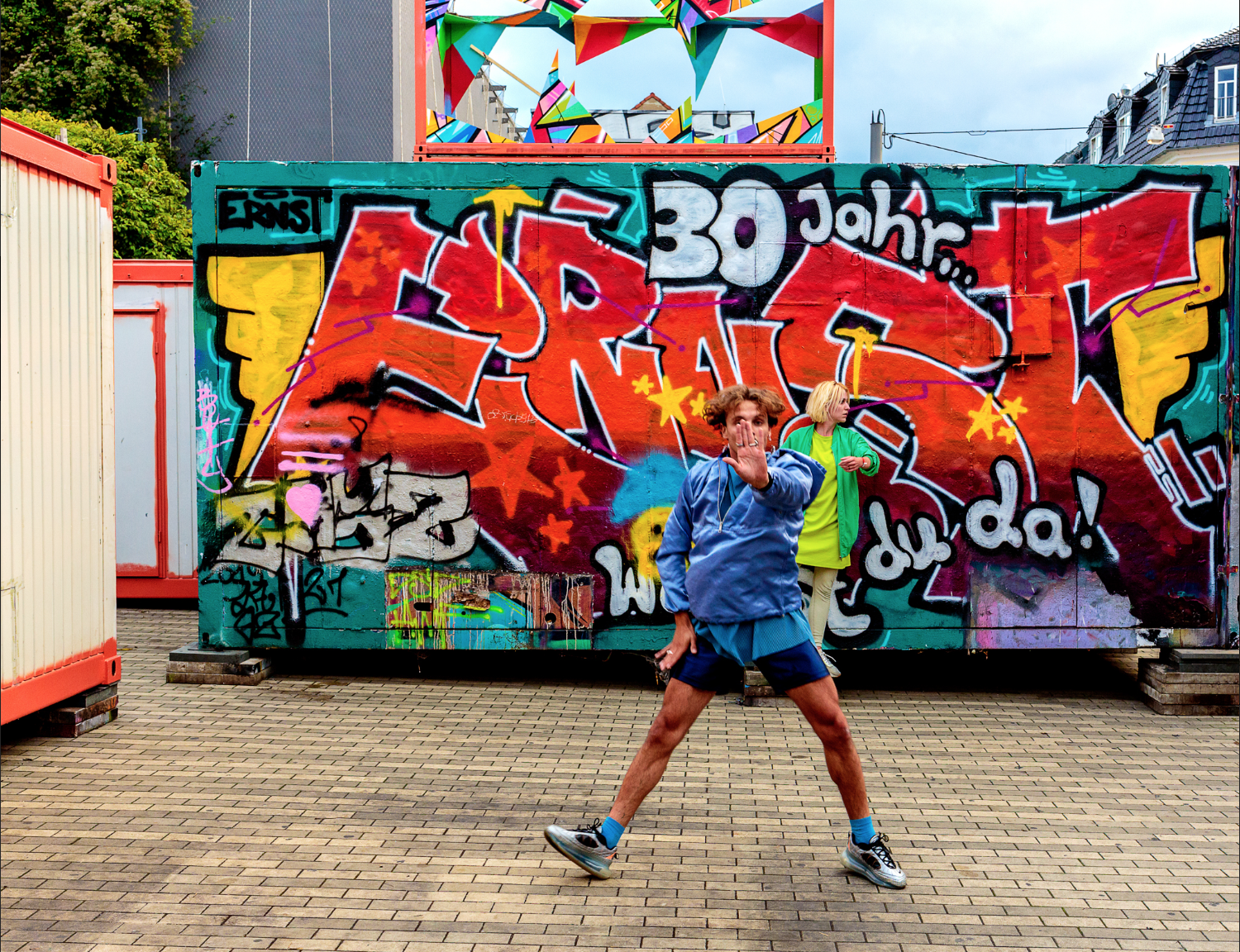 From August 24 – 26, 2022, the ibug international festival for urban art will take place in Flöha, Saxony. We are very happy to announce that go plastic company has also been invited to present an ASPHALT LAB as well as performing an ASPHALT performance during the festival period.
More about the ASPHALTWELTEN project can be found here
About ibug Festival
Since the first industrial brownfield redevelopment in 2006, ibug has become a world-renowned festival of urban art. Every year on the last weekend in August, a brownfield site in Saxony is opened as a temporary exhibition. The focus of the international artists is on experimenting with genres, materials and techniques as well as on the past of the wasteland and its architecture. The ibug team has received many awards for its commitment, including the "PlusPunkt Kultur" award from the Federal Association for Cultural Education for Children and Youth in 2010, the "So geht Sächsisch" ideas competition for tourism in Saxony in 2019, and the "Denkzeit Event" competition of the Saxon State Ministry for Science, Culture and Tourism in 2020 for creative ideas and innovative concepts for the implementation of existing or new events under corona conditions.
On July 15 and 16 (each show starts at 8:30 p.m.) we will show our production ASPHALTWELTEN again on the forecourt of the Festspielhaus Hellerau as part of our go plastic anniversary year.
In addition, we have been invited to the tanz.tausch – Dance and Performance Festival in Cologne on August 18 to perform ASPHALTWELTEN there as well. An extremely fitting occasion, as the festival also celebrates its 10th anniversary this year.
More information as well as tickets for the dates in Hellerau are available here.
About ASPHALTWELTEN
ASPHALTWELTEN creates a utopia through dance: a group that renounces stability and security, a life without walls, without insurance, without roots. Being at home in the body, not in buildings. Independent of origin, orientation and opinion. A coming together of biographies on public but "neutral" ground. How do we feel and create our own "artistic shelter"? How far does it reach; does it encompass only me or others as well? How can I carry it, support it,
take it with me and share it?
More about the ASPHALTWELTEN project is available at: asphaltwelten.goplasticcompany.de
A production of go plastic company in co-production with TANZPAKT Dresden and in cooperation with HELLERAU – European Center for the Arts. The premier in 2021 was supported by the NATIONAL PERFORMANCE NETWORK – STEPPING OUT, funded by the Federal Government Commissioner for Culture and the Media as part of the initiative NEUSTART KULTUR. Aid Program Dance. Funded by the Cultural Foundation of the Free State of Saxony. This measure is co-financed by tax funds on the basis of the budget passed by the members of the Saxon State Parliament. Funded by the Office for Culture and Monument Protection Dresden. With the kind support of TENZA and TanzNetzDresden e.V.
The revival of ASPHALTWELTEN in 2022 is based on the production from 2021, supported by the Fonds Darstellende Künste with funds from the Federal Government Commissioner for Culture and the Media as part of NEUSTART KULTUR.
• ASPHALT Studien performance on June 25, 2022 at the SOMMERBÜHNE of Palucca Hochschule für Tanz in Dresden
• go plastic STUDIO LAB July 4 – 7, 2022, TENZA
• ASPHALTWELTEN on July 15 & 16, 2022 (each show is starting at 8:30 p.m.) at HELLERAU – Europäisches Zentrum der Künste Dresden & August 18, 2022 at tanz.tausch Festival Cologne
• ASPHALT LAB & Performance at ibug Festival, August 24 – 26, 2022, Flöha
• World premiere mind the rage // November 4 / 5 / 6, 2022 //  LOFFT Das Theater Leipzig
• time & s_pace – go plastic turns 10 – celebration from November 24 – December 3, 2022 in co-production with HELLERAU – Europäisches Zentrum der Künste and in cooperation with the Societaetstheater Dresden