The cards have been reshuffled.
I see everything in front of me.
The images pulsate. Like basses.
Strange.
I am missing exactly one part.
The one link in the chain.
Rack my brain.
Feel my back, the scratches. That's it!
The hint of a smile. Corner of the mouth twitching.
Direction unclear.
DANGER!
They pass me by, sparkling like this.
Puzzling gleam in the eyes.
Contemplation runs millimeter by millimeter.
Catch myself doing it. Melt into embarrassment.
Presence takes me in.
Surrounds me like an embrace.
I let go.
And fall. As I have never fallen before.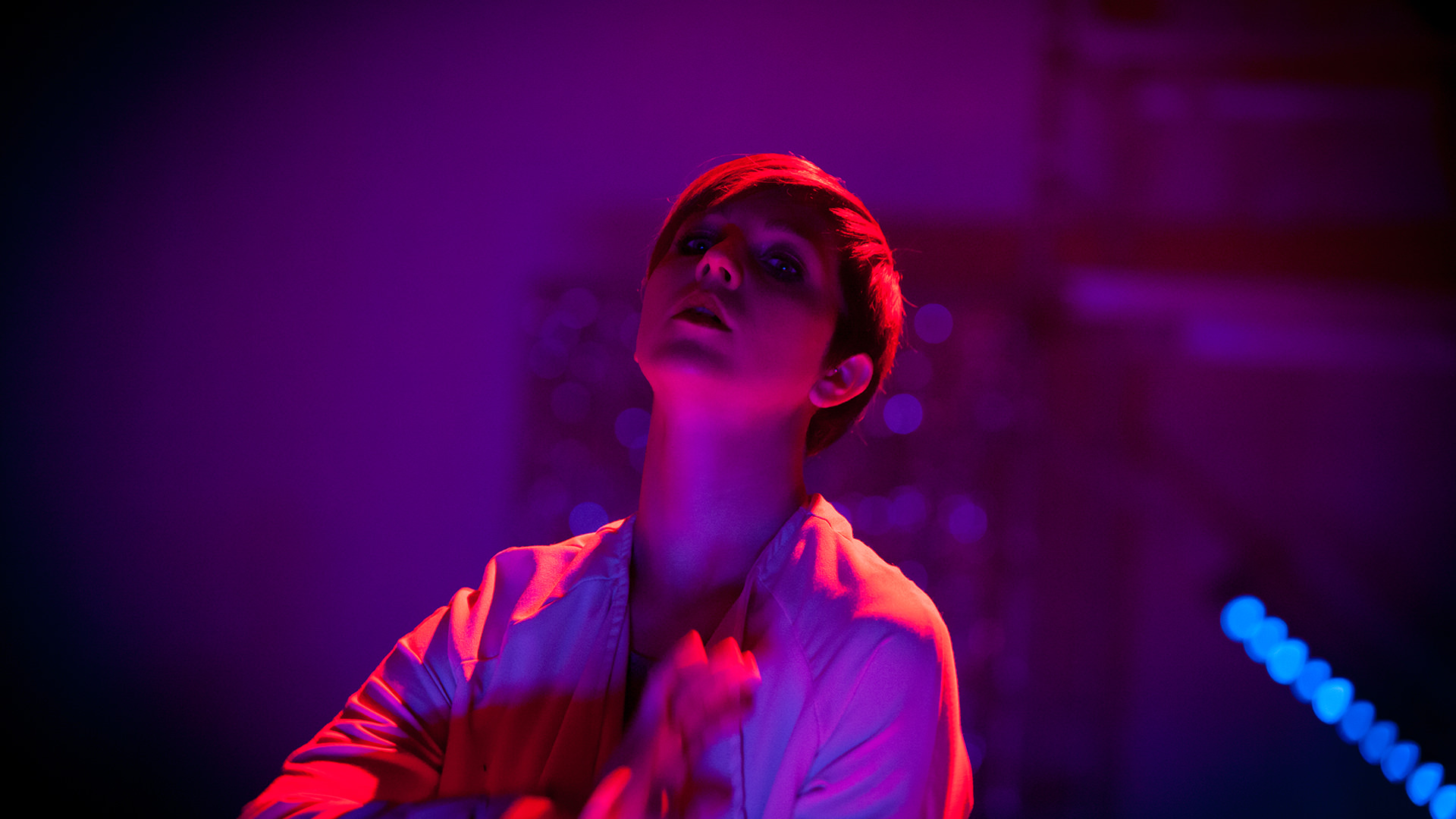 The last scene of "about:blank": three dancers in white wigs and billowing pants like from a 60s Woodstock movie dance lasciviously towards the end. This is where go plastic's unmistakable signature becomes apparent, characterized by the surreal, the grotesque and the play with stereotypes. Kitsch and pop culture play just as much a role as various film genres, including the genre thriller, which is the starting point of their work "about:blank" from 2014.
The evening invites the audience on a journey through the world of thrillers and detective stories, which almost resembles a trip in its gloominess and surrealistic mood. Dance, language and lighting moods create an absurd game that plays with the genre-specific characters: here the performers:inside in interrogation seem like from the Betty Ford clinic, the commissioner wears a tutu as a matter of course and declaims a medley of texts from "Tatort" and Hollywood movies, the dancers:inside stagger across the stage in murderous high heels that end in broken solos. Again and again go plastic creates atmospheric images that take us into the world of movies. And at the end we see these seductive dancing figures. Fallen angels. An image that remains etched in my mind to this day, 2021. That is the theatrical quality of go plastic.
Carmen Mehnert (Dramaturg, Curator, Agent) Summer 2021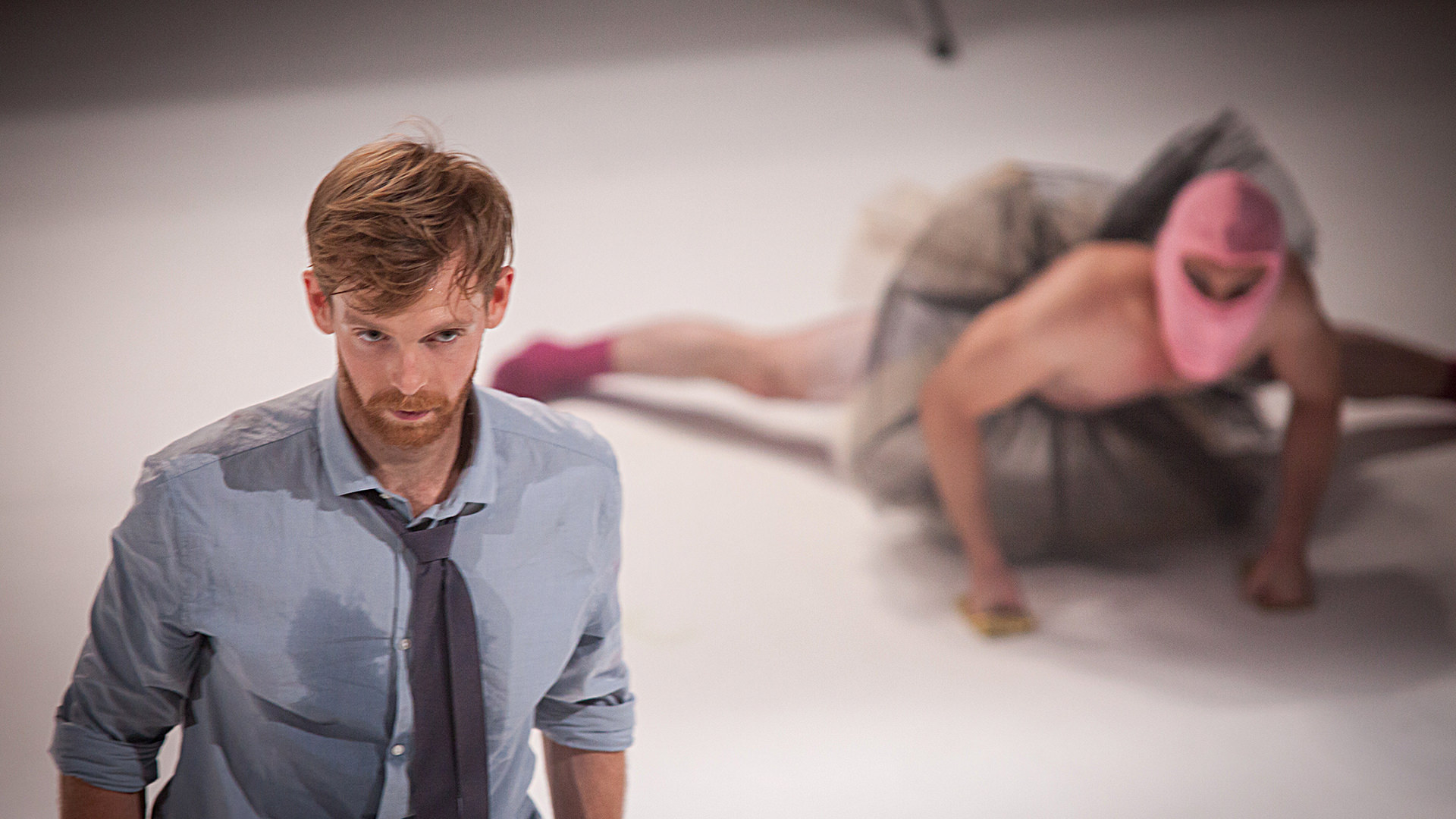 Dresden choreographer and dancer Cindy Hammer goes her way with her company "go plastic" unperturbed by trends and fashions. She mixes genres and is not afraid of big themes. Thus, she devoted herself to "Swan Lake" motifs with ironic melancholy, is "With Alice in the Cities" on the road and now she has even become a criminal. "About:Blank" is the name of her new work about dance and death, for which she was inspired by the genre of the thriller or even the serialized TV crime thriller. Not that a criminal ballet of action is to be expected. But the indispensable blue light flashes on the soles of a dancer's murderous high heels, a detective gets into criminal passions in his dealings with the fair sex, for which he is put into a tutu at the end. He lifts his skirt when three seductive angels, one of whom is male, dance for him. Two female dancers give themselves lasciviously or mysteriously, they fall off and get up and take elements of a thriller show lustily in grotesque movement patterns. Isabelle Schramm and Sarah E. Lewis are the serial dancers, the powerful dancer Jared Marks in short pants takes on different roles, murderer or undercover informant, or both, who can still quite tell the difference. The movement gifted actor Wolfgang Boos juggles with set pieces from "Tatort"-commissioner kitsch motifs as well as with winkingly presented set pieces from Hollywood's rumpus chamber.
Sometimes you think you know them, and then you're wrong when you look at the program, which lists almost as many names as the credits of a detective story. Others, like Bruce Springsteen, High Water or Falco and Astrud Gilberto, fit like a glove, which brings us back to the genre.
Speaking of genre, could it be that Cindy Hammer is in the process of creating a new one with her company? Or has there already been one, something like grotesque tabloid dance theater? If not, then go ahead, please, by all means.

Isabelle Schramm / Sarah E. Lewis / Jared Marks / Wolfgang Boos
go plastic / Johannes Herwig
Elisabeth Rosenthal / go plastic
Janette Lifzik / Sarah Hoemske
Juliane Müller / Stephan Tautz